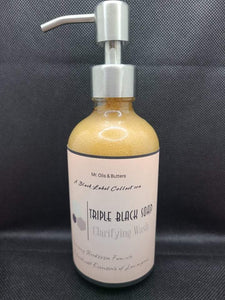 Raw products imported from Benin Formulated O&B style
Intense wash With Guaranteed Rich Bubbly Lather on the Dirtiest of Hair. Looking for a squeaky clean finish then look no Further. 
Why Triple? I use 3 Different Black soaps. Liquid Black soap, Black soap powder and Black soap Paste.
Recommend to follow wash with a moisturizing Poo or Conditioner.  
This is Extremely natural and can also be used as Full body Wash . 
Infused with Lemongrass to strengthen hair follicles and provides a natural Dandruff treatment. 
Free of dyes
Ingredients :
Handmade in Ghana Nilotica 
Cocoa Pod ash
Unrefined Cocos Nucifera
Roasted Plantain Skins
Palm Kernel oil
Organic Thai Lemongrass Essential oil 
8 Fl oz